Forecast for today Wednesday 28.09.2022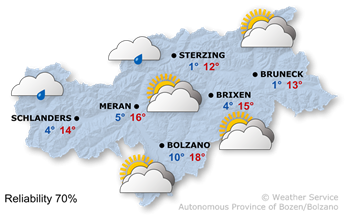 General weather conditions
A depression over the Northern Sea will determine the weather conditions.
The weather today
Cloudy sky with local showers during the day.
Mountain weather in South Tyrol

Wind at 3000 m
1 - Weak wind: 5-15km/h
2 - Moderate wind: 16-30 km/h
3 - Strong wind: 31-60 km/h
4 - Stormy wind: > 60 km/h

Sun
Sunrise: 07:10
Sunset: 19:01

Moon
Sunrise: 09:52
Sunset: 20:14
Forecast for tomorrow Thursday 29.09.2022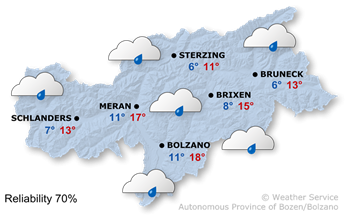 General weather conditions
South-westerly currents will bring humid air towards the Alps.
The weather tomorrow
On Thursday many clouds, in the afternoon and evening rain showers.
Mountain weather in South Tyrol

Wind at 3000 m
1 - Weak wind: 5-15km/h
2 - Moderate wind: 16-30 km/h
3 - Strong wind: 31-60 km/h
4 - Stormy wind: > 60 km/h

Sun
Sunrise: 07:10
Sunset: 18:59

Moon
Sunrise: 11:09
Sunset: 18:59
Forecast for the next days
Friday

Saturday

Sunday

Monday